The Advantages of Conductive Robotic Tips
As one of the high-quality conductive pipette tip suppliers, We would like to share with you the advantages of conductive tips. The conductive tips are also commonly called robotic tips. There are two common types: the Tecan tip and the HAMILTON tip. Hawach is one of the conductive pipette tip suppliers in China, along also HAMILTON and Tecan tip manufacturers. These two are all electrically conductive and are used in automated machines.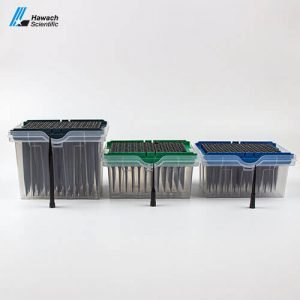 Conductive tips usually use top-grade medical material and can be used in many fields like immunoassays, cytomics, genomics, proteomics, metabolomics, and biopharmaceuticals for large batch pipetting. It is very widely used, and it is worthwhile for you to understand its advantages for future experiments.
The Advantage of Robotic Tips:
It has good electrical conductivity. Its material is pure, the tip is well-made, and it conducts evenly. The conductivity makes it suitable for use in machines, saving manpower and realizing large-volume pipetting work, greatly improving pipetting efficiency.
Good deformation resistance for dispensing and transfer of liquids in a wide range of applications. This greatly ensures the accuracy of the experimental results and the smooth progress of the experiment.
Hydrophobicity, and smooth surface, most of which reduce the liquid surface retention area, greatly reduce the amount of residual liquid, and the experimental results are high and accurate. The superhydrophobicity of the tips creates a strong barrier to aerosols, eliminating the risk of sample cross-contamination.
The mature casting process ensures the compatibility and adaptability of air tightness and improves the mechanical accuracy of the product during operation.
Conductive pipette tips can be used in many related experiments like pharmaceutical, life science research, clinical testing, protein, gene, immune testing, animal and plant inspection, and other more fields.
For Hawach Conductive Tips:
As one of the conductive pipette tip suppliers in China, our conductive tips are sold around the world. We have cooperated with many countries and regions and have received good reviews. In addition to conductive tips, other related laboratory consumables are also produced. Our company has been operating for a long time, with stable partners and a mature production system.
Hawach conductive tips are made of high-quality PP in Class 100,000 cleanrooms under strict inspection and evaluation. They are all free of pyrogen, endotoxin, DNase, and RNase. The strict quality control procedures ensure achieve excellent liquid handling results.
Hawach conductive tips can match with most HAMILTON and TECAN automatic liquid handling equipment on the market. And Hawach conductive tips can be used in conjunction with Tecan Genesis Freedom®, Freedom Evo®, and Miniprep with Liha® workstations for Tecan tips, as well as Hamilton STAR®, STAR, STARlet, MICROLAB®, STARplus, and Nimbus® for HAMILTON tip.
There are so many advantages and uses of the tip, which is a great helper for the laboratory. It can help the experiment to proceed smoothly and receive reliable data. We can provide you with high-quality robotic tips and a sincere attitude better than other HAMILTON and TECAN tip manufacturers. Hawach is always at your service and looks forward to cooperation.